First post, by chinny22
Finally Finished my " End of official Windows 98 support PC" This has to be my longest running project!
The PC is built round a GeForce 6800 Ultra I got in 2012 when I found out it was the last card officially support in Win98. As Win98 doesn't support multicore CPU's I figured that made a P4 without hyper threading the last "official" CPU. (From Intel)
With the goal posts set I was able to make a start. I lost interest in computers round this era so had to research everything beforehand. In the end I ended up with,
Motherboard: Asus P4P 800-E Rev 1.02
Got this in 2012, Everything I read both old and new recommended Asus P4C800 with the 875 chipset or P4P800 with the lesser 865 chipset. In reality there was little difference between chipsets, and no practical difference between the half dozen P4P800 variants, availability and cost meant I got the P4P800-E
CPU: Prescott 3.40GHZ/1M/800/SL7E6
It is a Hyper threaded CPU but a friend gave it to me in 2014 for free. Its one of the fastest CPU's for socket 478 so I just disabled HT in BIOS rather then go out and pay for another CPU.
CPU Heatsink: Scythe Mugen 2 Rev B
None of my existing heatsinks were upto cooling a Prescott. In the end I got one of these NIB off Amazon for £44 towards the end of 2014. Not one of my better deals but NIB is rare for me.
RAM: 4GB Corsair CMX1024-3500LLPRO -Very sexy!
I NEEDED these when I found out about them, but that wasn't until 2015, shame as I had already brought value ram, but these are so cool!
I got 2x 2GB kits within a month of each other after searching for over 6 months, in the end I got another 2GB kit in 2016 so now all 4GB is matching XMS3502v1.3 (the other 2GB kit ended in 1.2, not that it ACTAULLY matters)
Video: GeForce 6800 Ultra 256MB AGP
The original 2012 card was sold as untested, yeh it was dead. I didn't know about the solder issues back then so thought "It'll be fine" I was wrong.
2015 I finally got a confirmed working card for under £35, which I think is reasonable, some of these cards end up selling for crazy figures.
Audio: Audigy 2 ZS with internal I/O bay (Live drive)
Cant remember when I got this as I have now have 3 cards, and the I/O bay has been used with all 3 systems.
Case: Corsair Obsidian 650D
Got 2 of these in 2015, 2 different sellers same week, One for my daily driver had obviously been used and this one that was still in original packaging including the protective cover over the window and had no dust whatsoever. In fact the only thing showed it was second hand was Corsair and NVidia badges had been stuck discreetly on the top right on the left side cover (So near the window) Wouldn't have thought to put them there myself but they looked good and match the build so stayed.
PSU: Corsair RM750I
Originally I got an previous model Corsair 750 second hand but ended up in another PC.
Last year (2017) I needed a new PSU for another project and these were on special direct from Corsair so I ordered 2.
In the end this was a mistake as the software doesn't run in anything below Windows 7. I'll swap them round if I ever get a Win7 PC.
Fans:
2x 140MM 1x 120MM Aerocool DS Dead Silence Red LED
1x 200MM CoolerMaster MegaFlow RED LED
Red was always going to be the theme for my hot as hell P4.
I had used and liked Blue Aircool DS fans before so stuck with them, the 2 140mm up top, the 120 rear exhaust
Not many people make 200mm fans and even less with Red LED so my choice was made for me, still its nice and quiet.
These were the last bits of hardware ordered in mid 2017, until then I used the original case fans that I hadn't already stolen.
FDD: Standard Gotek
Ordered 2016 same time as I needed for my P3.
HDD's
2x SATA WD Caviar Blue WD3200AAJS 320GB
1x IDE WD WD1600AAJB 160GB
1x IDE Seagate Barracuda ATA IV 60GB
All drives I had lying around
DVD:
Some SATA DVD-RW I had lying around.
I've now got Windows installed and stable FINALLY, still need to install games, etc so that'll have to wait till next post Its time for some crappy pics
(My camera doesn't like poor lighting, which I need to truly show this off)
Front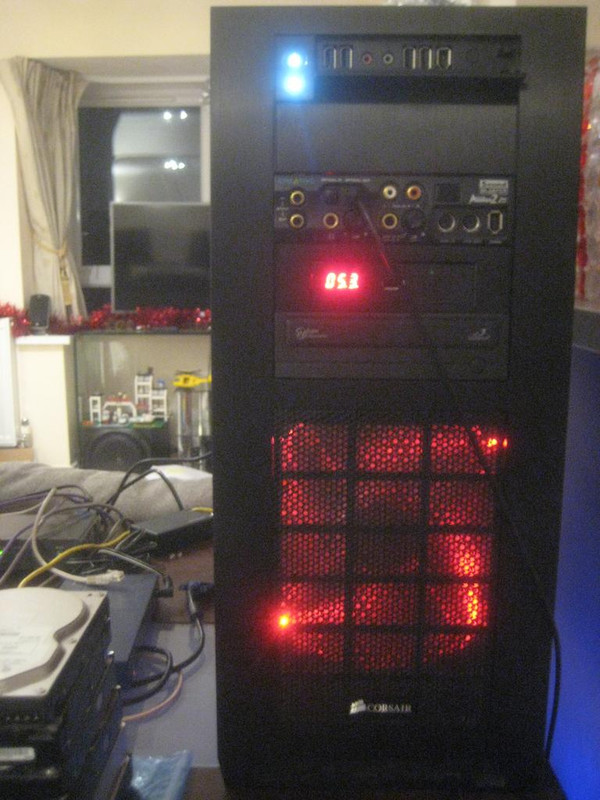 Back, The cables are for the front USB 2.0 ports, I hooked them up not that I really use them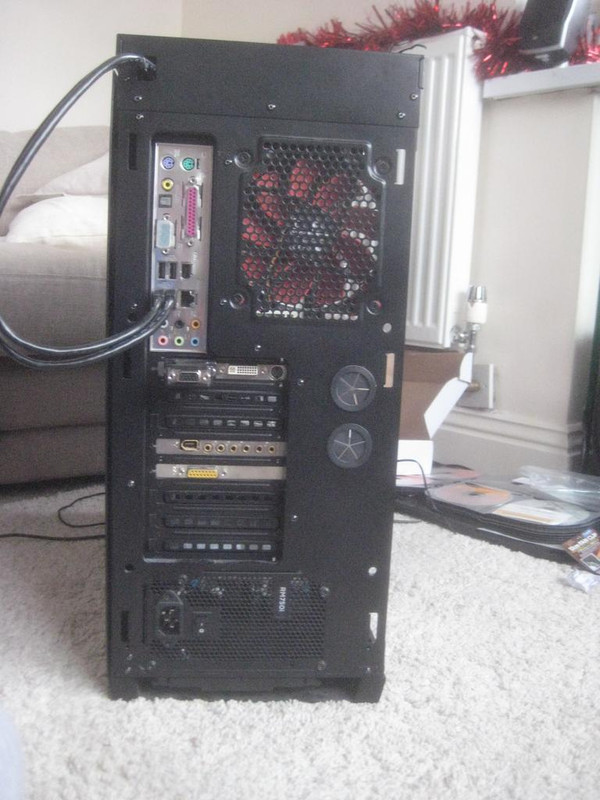 What it looks like (although just noticed the reflection from wires outside that makes it look not so tidy)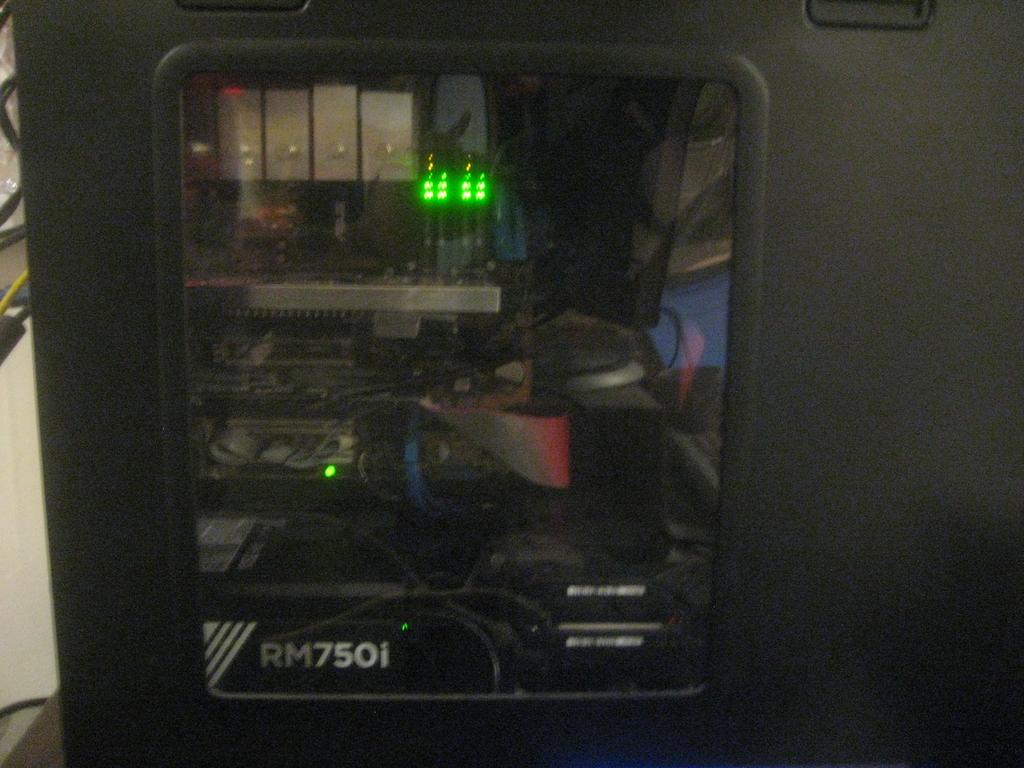 Better look of the inside, I mounted the HDD's like this as the "proper" way was blocking all airflow from the front fan, catch is they are just held in by gravity.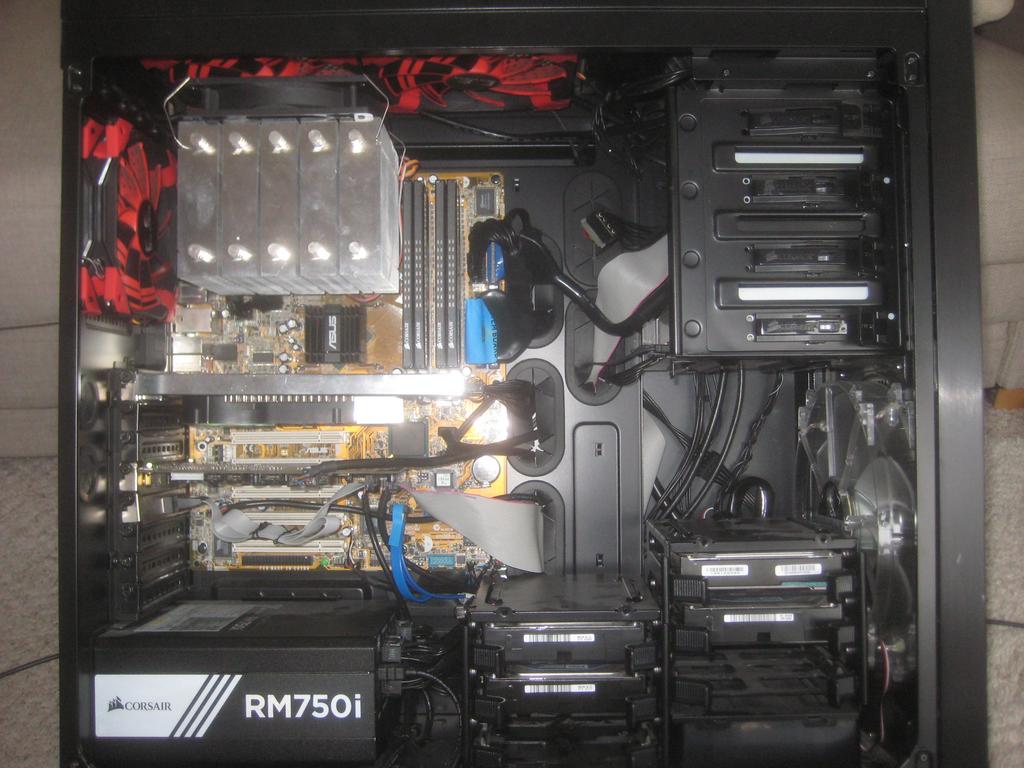 Poor attempt of trying to get the lighting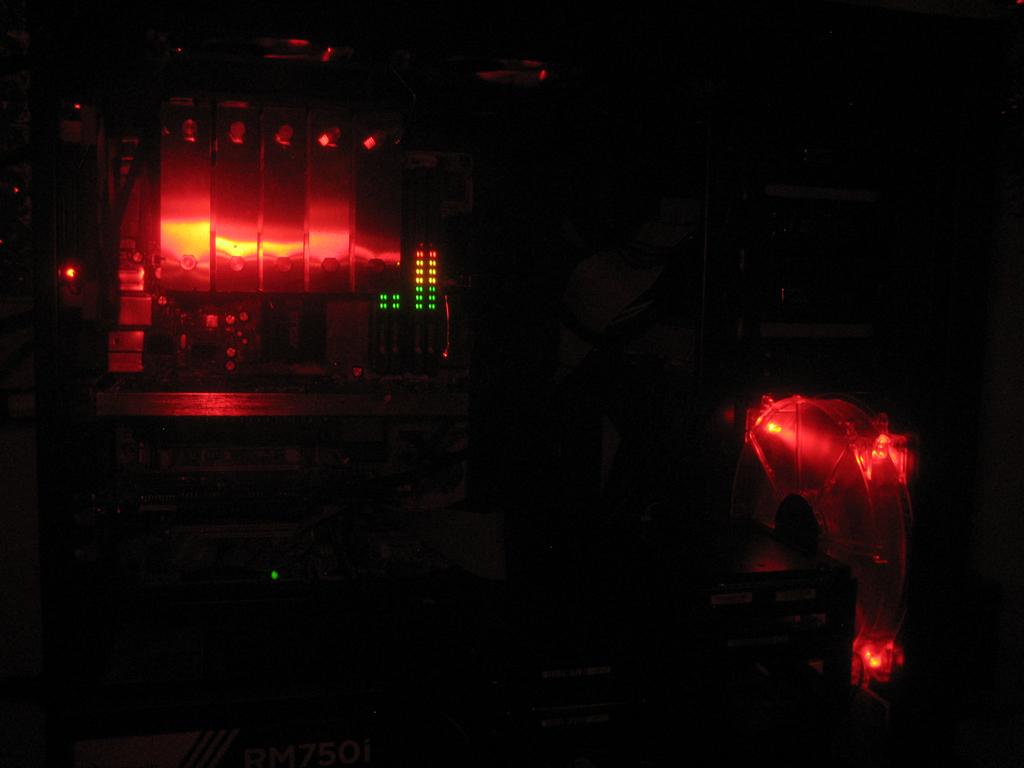 Even worse photo but showing off more of the flashy RAM, It really is quite fun to watch the utilisation go up and down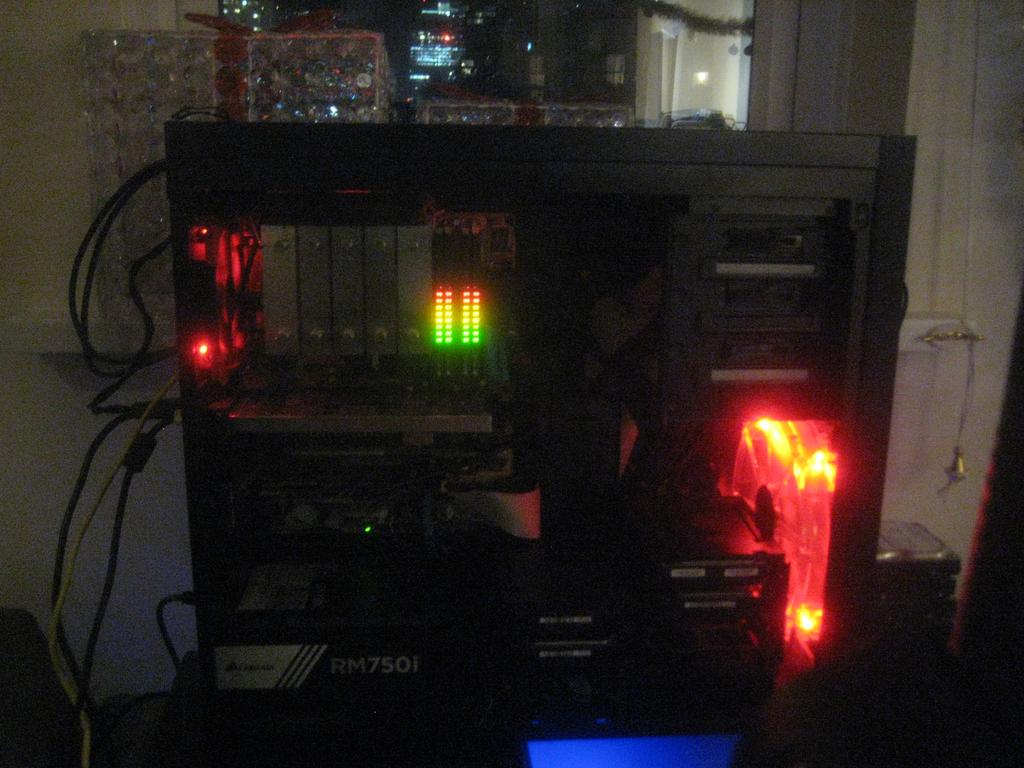 Next chapter, the pain of getting to actually work!
Edit -updated pics URL
Last edited by
chinny22
on 2018-06-13, 11:06. Edited 1 time in total.