Reply 800 of 1160, by pshipkov
Makes sense.
==========
VLB EIDE/SCSI controllers are interesting subject to me.
Keep updating documented data here with new findings.
Recently that was Promise DC440 - a combined IDE / SCSI-2 VLB controller from year 1993.
Apparently a high-end product for its time. Priced at $190.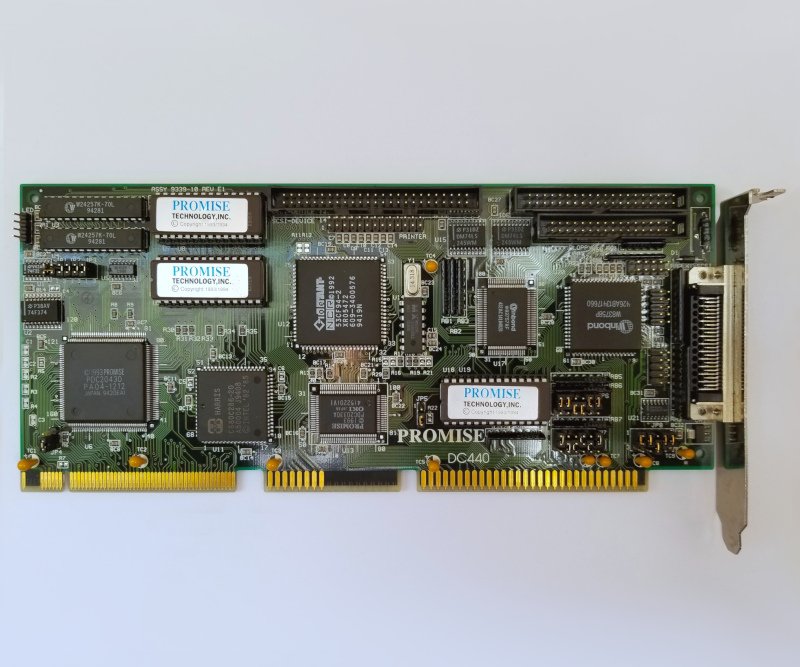 Full package in its original plain white box.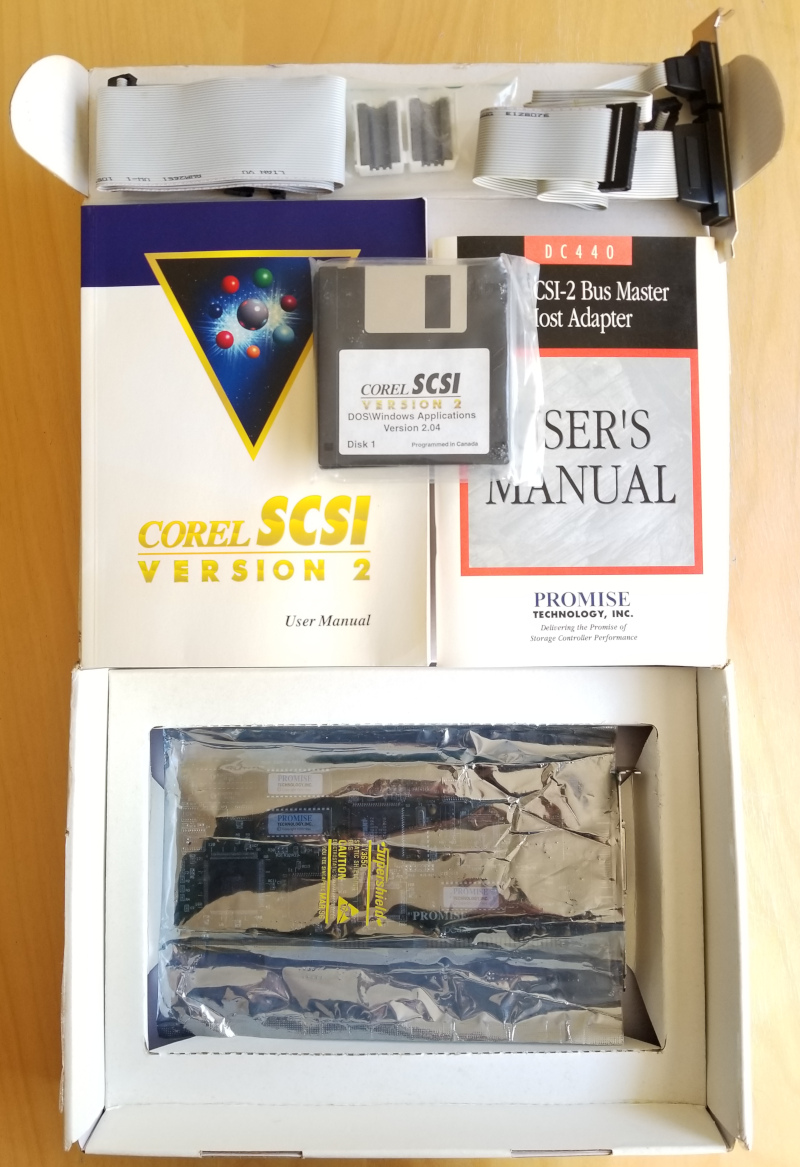 Plugged it into the fast Asus VLI based PC (running at 40MHz base frequency - P24T@100 or Am5x86@160) that was used for testing all other VLB EIDE/SCSI controllers in the link above.
Couldn't find any description of the PDC20430 chip.
I suspect it is an EIDE controller, but the word "enhanced" is not used anywhere in the manual (the booklet).
There are no drivers for it on the floppy discs, or that particular diskette is missing. Also, none of the existing/known DOS and Windows drivers support it. Finally - no jumpers for speed settings (something common on EIDE controllers).
At the same time there are PDC20230 chips that implement EIDE interfaces, so it does not make sense for this one to be plain old IDE.
But without a driver IDE mode is in order. Because of that - performance is very low.
The SCSI-2 interface does bus mastering, so L1 cache must be set to Write Through mode, otherwise boot does not complete - the controllers hangs.
On-board jumpers provide access to BIOS memory location and IRQs.
JP5 can be set to position 1-2 for "base frequency smaller than 33MHz". Supposedly improves performance, but didn't notice any difference between positions 1-2 and 2-3.
SCSI setup menu can be invoked with F2 during POST. Interface is similar to the ones know from the later Promise UltraIDE PCI controllers.
Sync mode is faster than Async.
Used 10mb/s mode.
Both IDE and SCSI-2 performance is similar between CF cards and mechanical HDDs.
Indication that bottleneck is the controller itself.
Performance metrics provided in the link above.
Basically 1.6Mb/s IDE and 3-5Mb/s SCSI-2, reported by SpeedSys and Coretest.
Much slower than most other VLB EIDE controllers (missing driver).
Similar SCSI speed to Adaptec 2840VL.
I think i made all the right moves when testing the device, but still something feels off.
1. The booklet talks about up to 10Mb/s theoretical speed for the SCSI interface, but i don't get even half of that, while the system is capable of reaching 12-18Mb/s with other EIDE controllers.
2. PDC20430 is most likely an EIDE interface ? Anyone ? Driver ?
Last edited by
pshipkov
on 2021-12-26, 19:43. Edited 3 times in total.