First post, by Sphere478
Related projects: Sphere's PCB projects.
————————————————————————————-
Recent update:
Probably one more alpha then move on to prototype. looking for interested parties willing to prototype the unit as I really have too many projects right now and my cpu collection doesn't include a lot of socket 1/2/3 be warned though, prototype may contain errors.
The most recent alpha has quite a few features including multiplier, voltager interposer, wt/wb, and even 487 mod.
Re: Socket 1/2/3 Tweaker (Alpha)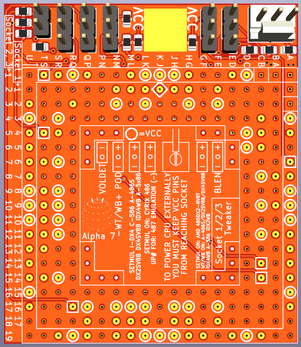 ————————————————————————————-
OP:
Retro and I were discussing in discord that there may be a need for a tweaking pcb similar to the Socket 5/7/SS7 (Motherboard) Tweaker (Released) but for socket 3
Apparently there are detection issues with some cpus that use less pins?
I don't have any socket 3 hardware to test this on, and am kinda new to pcb design but I'm willing to try and help if I can.
Can you guys describe in detail tweaks and mods that can be done to this socket and make some diagrams and schematics of what is needed?
Last edited by
Sphere478
on 2022-10-18, 01:50. Edited 19 times in total.