First post, by Mitchellin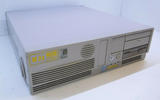 I bought this little fella off ebay, managed to snatch it for 41£ and 11£ delivery (it was very well packaged). Description said it had a 133 mhz Pentium, 40mb RAM and no HDD. I always wanted to buy back my first PC off the kid that I sold it to, but his aunt and my cousin divorced so I can't contact him anymore. Also, he might have destroyed it by now... My first PC was a HP Vectra XM with a Pentium 133 mhz. It was heavy, smelly and loud.
Back to the Olivetti M24 new P133. The system is LPX form factor (Low Profile eXtension), although in the only manuals I found it is actually called a Slim Tin Box (?!?). Whatever. It was sold in 3 versions apparently: with a 75, 100 and 133 mhz Pentium processor. It was a ISA/PCI Socket 5 architecture, although my socket clearly says Socket 7! More on to that later. It has the typical riser bus expansion card in the middle of the damn board, which is a hindrance for airflow and wires and... expansion, really. Back in 1996, stacking things must've been cool or something. The M24 was the original model from the 80's, this is like an homage to it, or just a cheap marketing strategy. It was based on the Olivetti M4 P133/PCS 5140 models. TINSL/II yields quite a range of models if researched.
I have yet to find out which motherboard I have exactly. The model says BA2306. No info on google whatsoever, I think it might be a Trigem, but I can't say for sure. The BIOS is very cool, it has mouse support. It is version 1.24, although the manual clearly mentions a 1.21 as last revision. The AMI bios string is 51-0200-000000-01111111-071595-TRITON-5. I have no clue which jumpers do what, but I've tried to go 2.5x using other Olivetti mainboards as reference with no success as the processor is very likely to be stuck at 2x (SY022). FSB is also 66mhz max. I did want to OC the processor at 166, but since it's locked, I'll stay like this for now. I can probably use a 233 MMX one as I have a cooler, or a non-mmx at 200mhz. But to be fair, I have a dual P3 at 450mhz with Quadro 1 for more demanding games. I have no clue what that thing is next to the processor socket (VRM kind of thing?).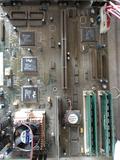 As you can see, the motherboard was in quite a state. PC was booting up anyway, it just needed a clean. I had to watch a video on youtube about another similar model from Olivetti to find out how to remove the parts. I had a network card I think inside as well, plus space next to the riser card for an optional Mozart OTI 605 board (MI2074/MI2109). The integrated sound is 3D audio board (MI2112). Memory I think it's 70ns, in modules of 8 mb: first two from the left are Hynx, last ones LG. Apparently the HDD goes underneath the PSU. That's a hot place to be in, err. I removed the thermal sticker from the CPU and used some good ol' Noctua NT-H1 that I had around. So here it is after some serious WD 40 Specialist spray cleaning:
I looked online for memory chips for the onboard video, although that won't help a lot. No result. I also looked for the Mozart expansion sound board, again no result. All good. I bought a PCI 3D accelerator, the cheapest that I could find: the beefy Radeon 7000 with 64-bit interface 64mb DDR. Overkill as hell and arguably, not exactly the best choice for a Win95C machine... In the meantime, I did manage to score a Voodoo 1 for cheap, I'm still waiting for the delivery. It's a Guillemot Maxi Gamer 3D with 4mb. A bit more appropriate than the Radeon 7000, which will be retired before even using it. I do plan on using it in a thin client. Now, I must look for an audio card. The integrated sound is OK, but not the best. I ordered a 4GB Transcend CF card to use, hopefully the BIOS won't get nasty about the size. Also bought an adapter for the CF card.
I do need help with the PSU. It works, but it looks dirty inside and I won't bother opening or plan on using it for long. I want a modern one with AT adapters. I got the smallest PSU I could find in my stash, a Seasonic 300ET or something. It's too big. And doesn't have enough MOLEX connectors. I need at least 2-3 (one for hdd, one for CD-Rom and one for the CPU cooler). I think I need to find a TFX or SFX, I need to measure it first.
Last edited by
Mitchellin
on 2019-08-14, 18:39. Edited 3 times in total.