First post, by VooDooMan
Some of you might already know this, some of you might just read my previous thread but it seems that SiS 635T chipset is the king of performance among all Pentium III motherboards(single socket)! That is why I think this "forgotten" chipset deserves a little bit more attention 😉
The sad thing about this chipset is that it was used on very few motherboards. The most common one is the ECS P6S5AT which I am using for my tests right now.
There are probably some others too, but they seem very rare or even ghost hardware …
Here are other ones that I've found so far:
- PC Chips M700
- Jetway 635CS
- ECS P6S5MT
- ASUS CUS266
The perfect solution for me would be to have the one by ASUS, unfortunately it seems to exist only on paper... IMAGINE ASUS STABILITY/OVERCLOCKING FEATURES and the PEROFORMANCE of SiS 635T! It would be the Ideal Motherboard for all Pentium III CPUs 😀
Lets discuss now the weak and strong points of this ECS P6SPAT mobo.
Advantages:
- The fastest Single Socket 370 platform for Pentium III CPUs when paired with solid AGP graphics card that utilizes AGP features. – Check this thread if you want to see details.
- Provides proper AGP divider with 166 FSB! This feature makes this mobo one of a kind… I think it is the only Pentium III chipset that has such capabilities! So far I was not able to prove it "on paper" as a proof, but I used a simple trick described here and it works. Anyone can check it yourself and see if it works on your ECS, or try on any other Socket 370/Slot1 mobo and see that it doesn't work. I think they made that divider for 166FSB when they were working on SiS 735 chipset for ATLHONS at the same time, so in a way they are kind of a "cousins" but that is just my theory, and I cannot tell for sure.
- Surprisingly stable! After all the tests I have done there was NOT A SINGLE case of an error or freeze… and I used many graphics cards to check it.
- Boots very fast. I did not measure precisely, but I have an impression that this P6S5AT is the fastest booting motherboard among all Pentium IIIs.
- Very cheap at its release and not that hard to find nowadays.
Disadvantages:
- Really bad caps… I advise you to re-cap it before you use it.
- Very simple and limited BIOS. You cannot set the tRas timing in the BIOS which really sucks. There are NO overclocking features in the original BIOS which sucks even more. All though, I think there was a hacked BETA BIOS in the past that allowed for some overclocking modifications but I was not able to find it anywhere so far… Hopefully somebody here will have more information on this topic and helps me out… 😀
- Poor performance with PCI video cards probably to the fact that there is no south bridge on this motherboard. Everything is integrated in one chip.
- No ISA slots. Old sound cards enthuses will complain on that.
-=OVERCLOCKING=-
Despite the fact that this chipset is BAD for overclocking, it is PERFECT for "already" overclocked processors 😉 Strange as it may sound, but that is true… why? You cannot overclok anything in the BIOS but you can use CMOSTool for some limited OC features. So if you have a CPU that you already overclocked on a different mobo, and you know that it works fine at 150 or even better at 166 FSB than this mobo is perfect for you 😉 At 166, you can use DDR 333 memory so that you do not have to overclock regular 133MHz SDRAM (I am aware of 166 MHz SDRam but it is very uncommon) and the proper AGP divider will not affect your AGP graphics cards. In this case you are overclocking only your CPU without "damaging" other components like RAM, GPU or PCI devices 😀
How to use CMOSTool on ECS P6S5AT for OC?
There aren't many features that you can change, there is no 1 MHz increasement. I know how to set 150/150 and 166/166 but there are other options too. 200/200 is possible for example, but I guess that is only for some EXTREMER OVERCLOCKERS 😁 I wonder what is the AGP diveder then 😜
To set FSB to 150 MHz: address 0x006F value and set it to 0x0039
To set FSB to 166 MHz: address 0x006F value and set it to 0x003A
As simple as that 😉 It works as long as you change it or reset you CMOS manually on you motherboard.
WHAT PROCESSORS USE FOR STABLE 166 FSB?
I am trying to find any Coppermine/Tualatin CPUs that are able to work flawlessly at 166 MHz FSB. So far I have found only too, and it is described in this thread
Unfortunately, there is probably no way to change the voltage of a given cpu in CMOSTool on this mobo… so in case you find a CPU that is capable of 166 MHz but requires more voltage, you will have to make a volt mod. I tried all of my Tualatin CPUs and unluckily none of them worked at 166 FSB... but most of them had no problems running at 150 FSB.
TEST RESULTS WITH OCed CPUs
Here are some OC results with Pentium III-S Tualatin (SL6BY) at 150 FSB:
GeForce Ti 4600 (Default GPU/RAM clocks):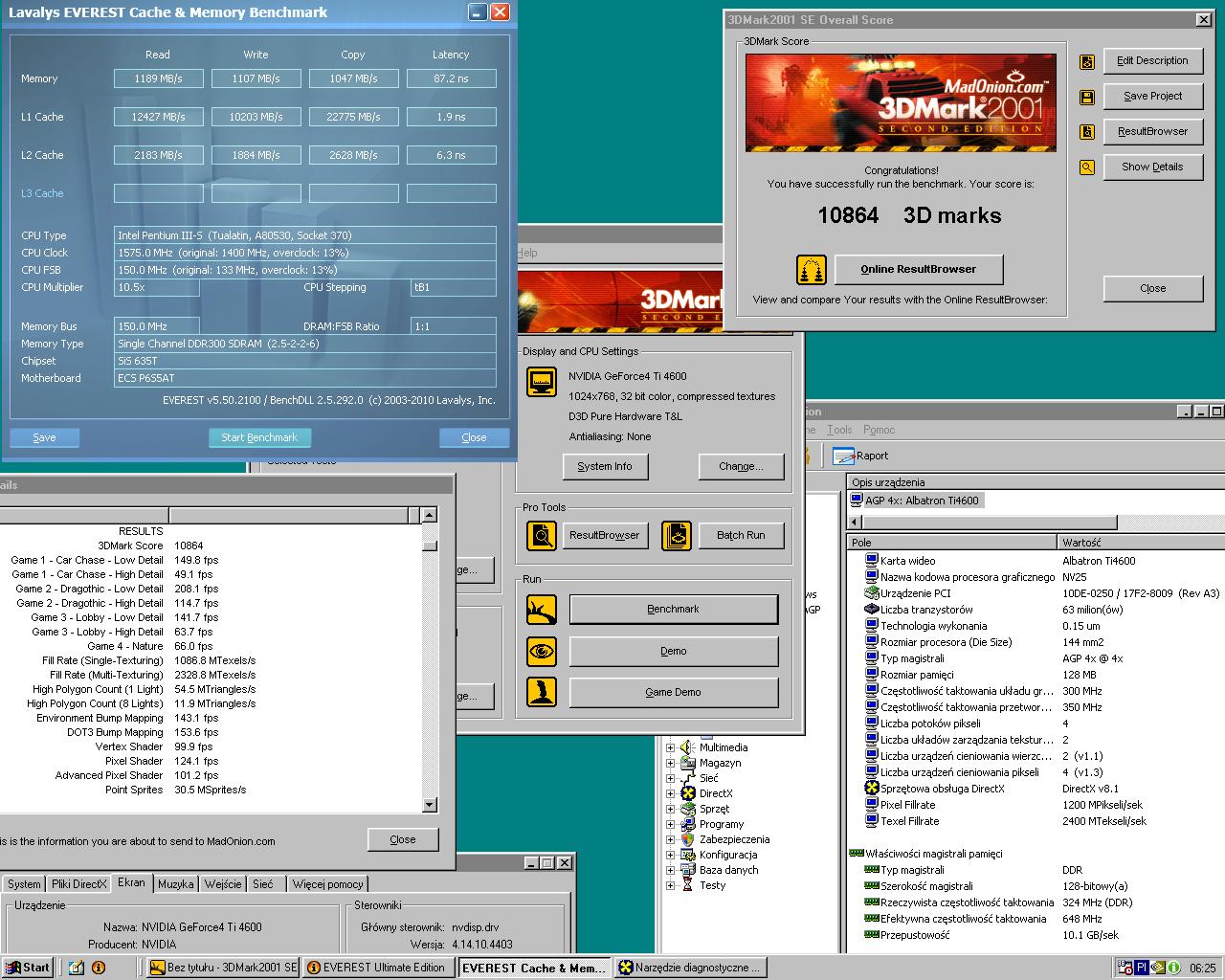 GeForce FX5950 AGP (Default GPU/RAM clocks):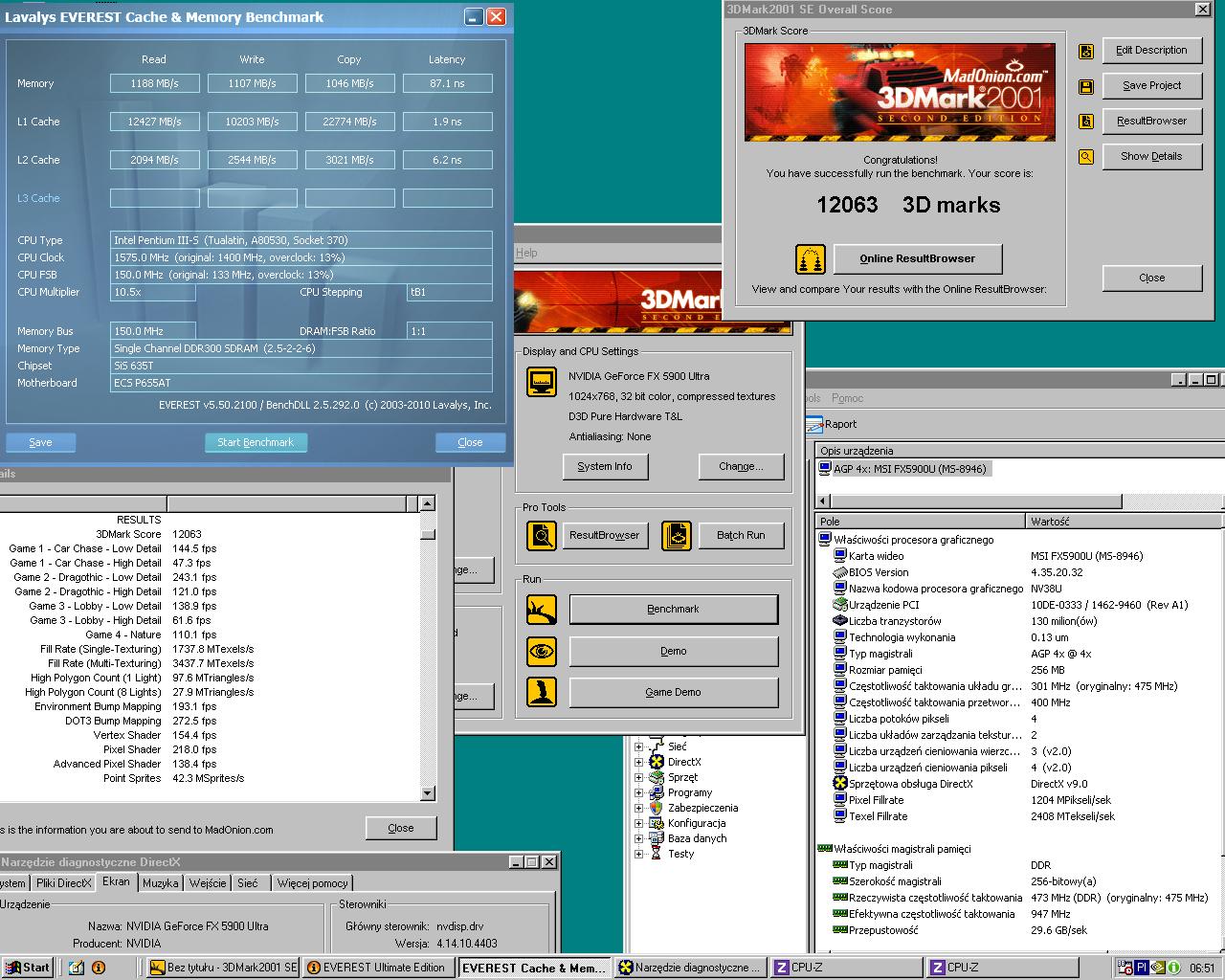 Here are some OC results with Pentium III Coppermine (SL5FQ) at 166 FSB
GeForce Ti 4600 (Default GPU/RAM clocks):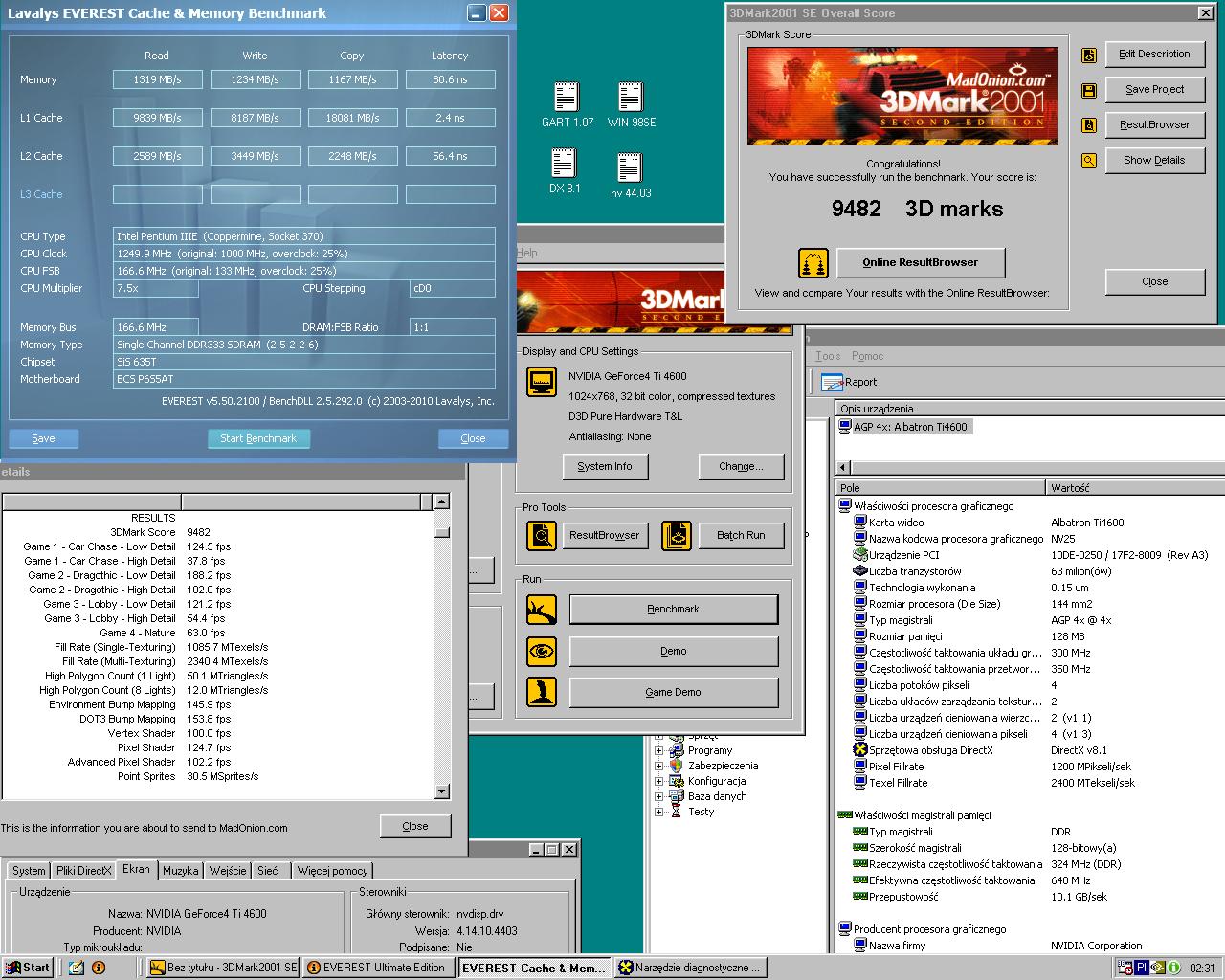 GeForce FX5950 AGP (Default GPU/RAM clocks):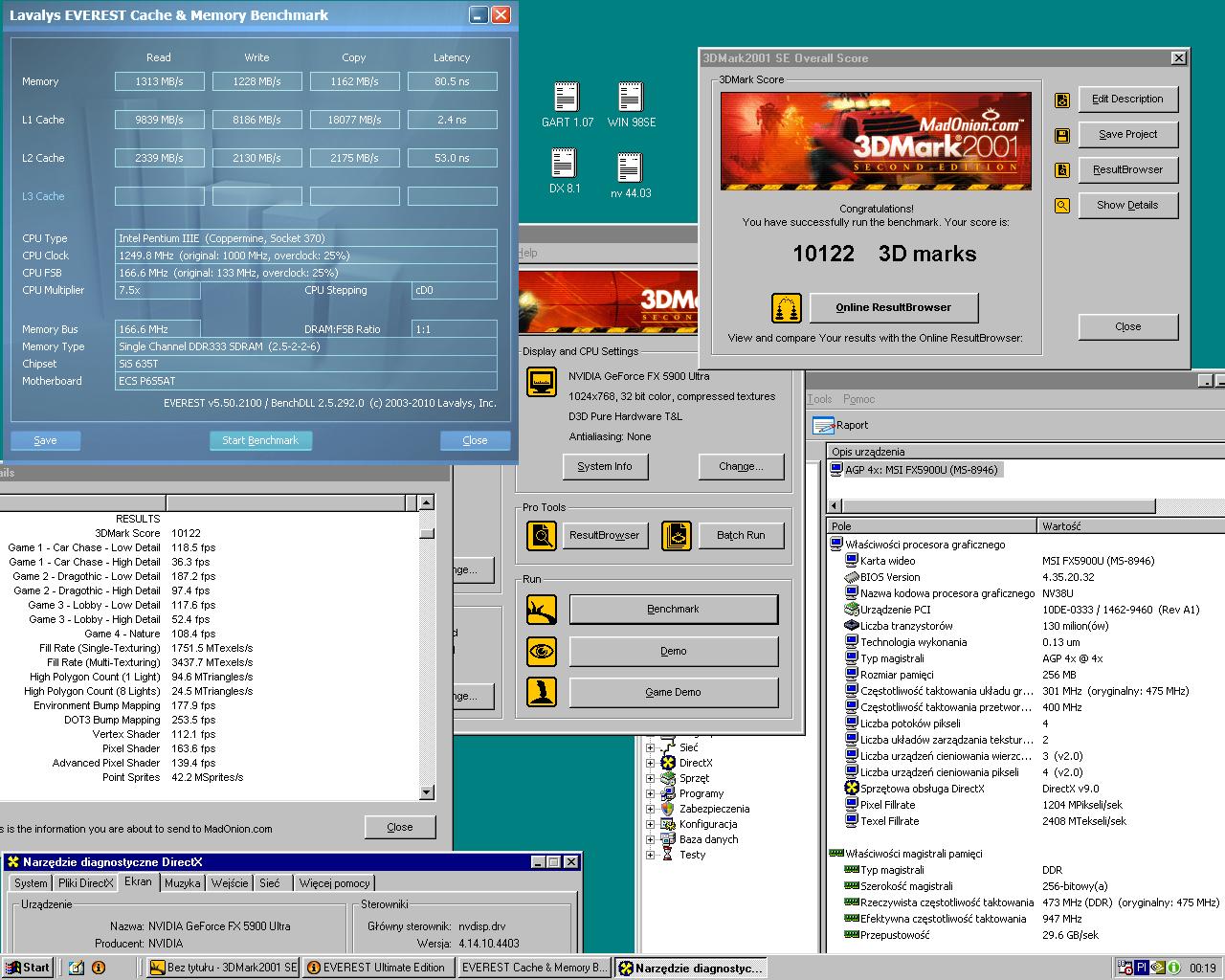 GeForce FX5950 AGP (OVERCLOCKED CARD!):

And here is the "IMPOSSIBLE"
ATI Radeon 9800 PRO overclocked to the speeds of Radeon 9800 XT on a 166 FSB!!!![/u]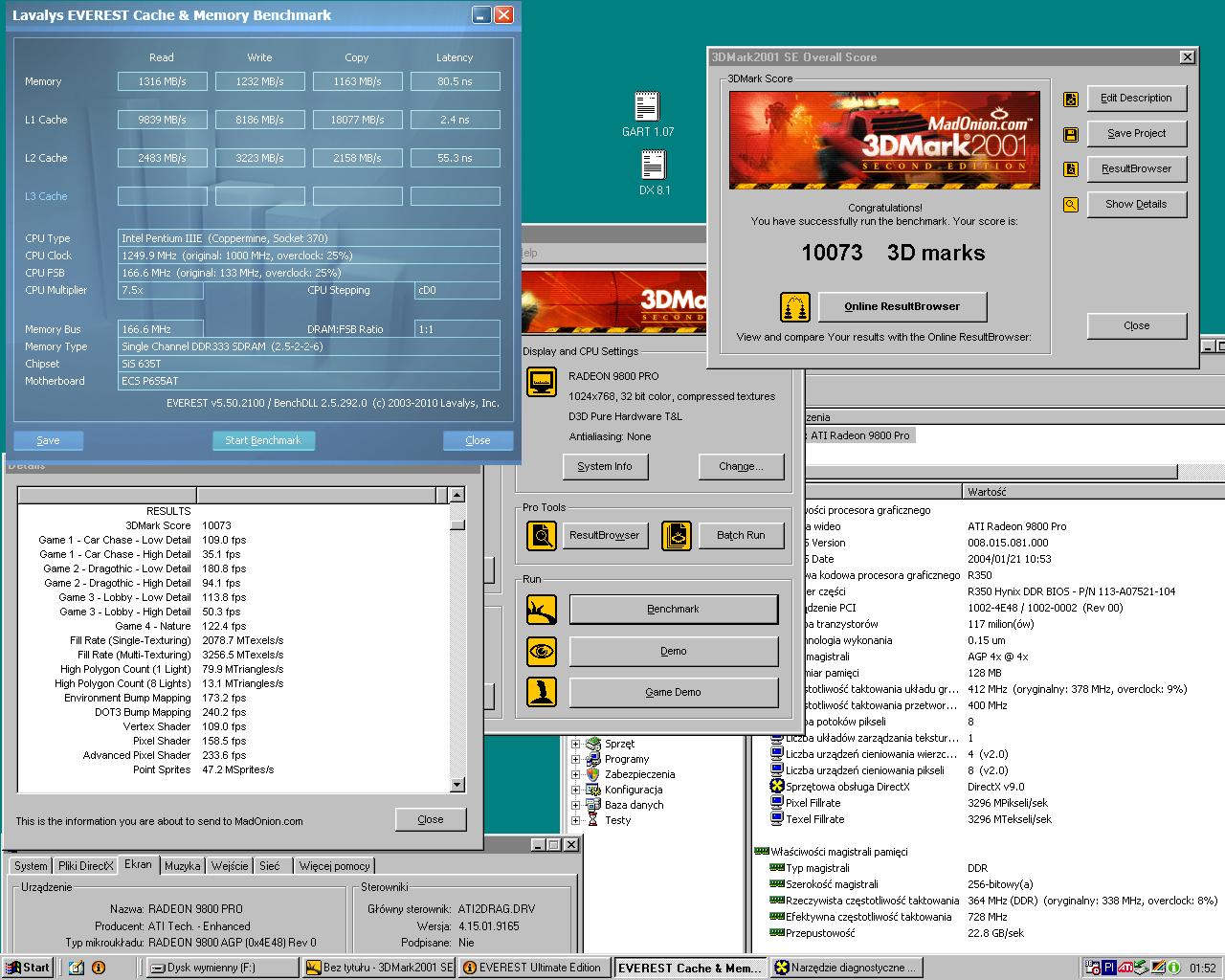 The same trick with Readon 9500 that won't work on any other socket 370 boards 😉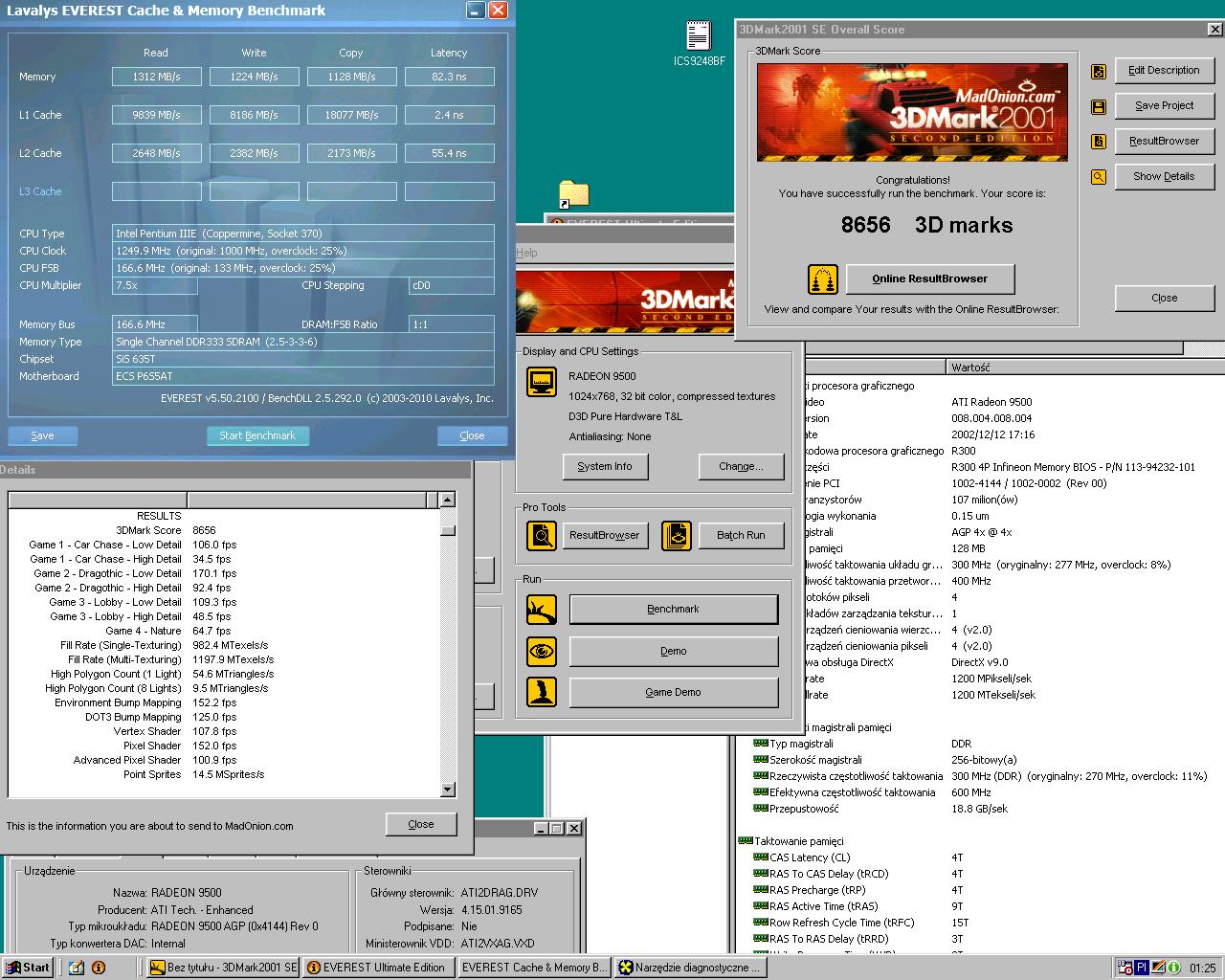 Stability while overclocking is excellent. Once I found a stable CPU I stressed it for 1,5 hour in Everest with positive results. The chipset itself does not get very high, I measured 42 Celsius degrees on the surface of chipsets' heatsink. The temperatures shown in BIOS seem to be incorrect.
HOW TO LOWER THE RAM TIMINGS?

In the BIOS there is no option to alter the tRAS timing. You can change CAS# Latency RAS# (2-3) RAS to CAS#(5-6) and RAS# Precharge (5-6) but there is no option for tRAS. I tried different software to change it, but none of them worked. I think it will be possible with CMOSTool but I don't know which address is responsible for tRAS and what value should be set to lower it... If I manage to do so, the performance should be even better 😉
What I find difficult is to set the RAM timing to 2-2-2-6 on a 166 Front Side Bus! The best configuration so far I managed to set was 2,5-2-2-6 on some regular CL2,5 DDR400 RAM by GOODRam. I guess I need better RAM... I still have to look for some fast CL2 400 MHz DDR memories to be finally able to achieve 2-2-2-6 and maybe even 2-2-2-5 if I find a way to lower tRAS somehow...