Reply 140 of 156, by pshipkov
@ekb - you are forgiven 😁
Here is what i got based on your pointers Andrew and EKB:



Red wire is pin B13, connected to +5V -> L1 WB enabled.
Yellow wire is pin R17, connected to GND -> 4x multiplier.
So i got the board running at 160MHz (4x40).
There was a bit of confusion initially. Apparently the BIOS can display maximum of 150MHz during POST, which confused me for a moment.
Even there is a bus divider option, 4x50 is a no-go, also there is no 60MHz option in the clock generator, so no dice for 3x60. Anyway.
Here is what SpeedSys reports for 4x40 and L1 WB.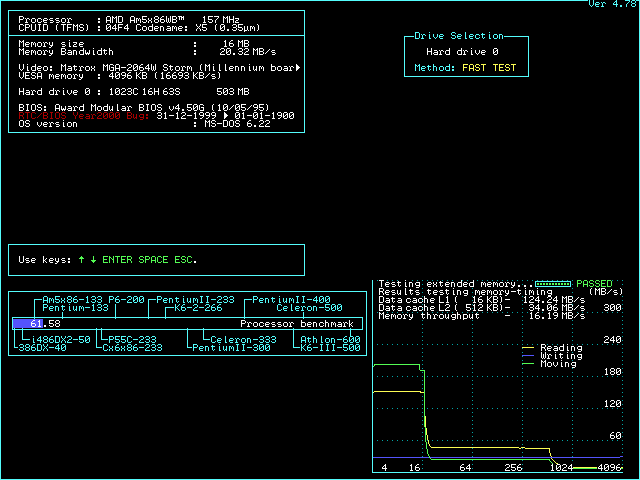 CPU speed looks great, memory bandwidth is incorrect.
But i don't trust these synthetic tests 1 bit for a reason - they are more often than not misleading.
Running some real world game/apps tests show that 4x40MHz is quite slower than 3x50 on this motherboard. Didn't expect that.
Also, there is no measurable performance difference between L1 WT and WB. Didn't expect that either.
This FIC 86-VIP-IO2 motherboard is an oddball for sure.
Andrew, you said that you have similar board, wonder if you tried it at 3x50 ?
Did you observe the same performance advantage over 4x40 ?