First post, by chinny22
Ok so working from home has it's benefits. One of these is having my MP3 library playing in the background.
What I've since discovered is having an old PC's on for 9hrs pumps out a lot of heat, even if just playing music, who would have thought right?
I decided that I was putting unnecessary hours on my "do it all" S775 XP PC, the fact it's got 2 GF GTX 590's defiantly adding to the room's ambient temperature.
So I went about building a more basic PC out of spare parts, and got distracted. What I ended up deciding on is dusting off one of these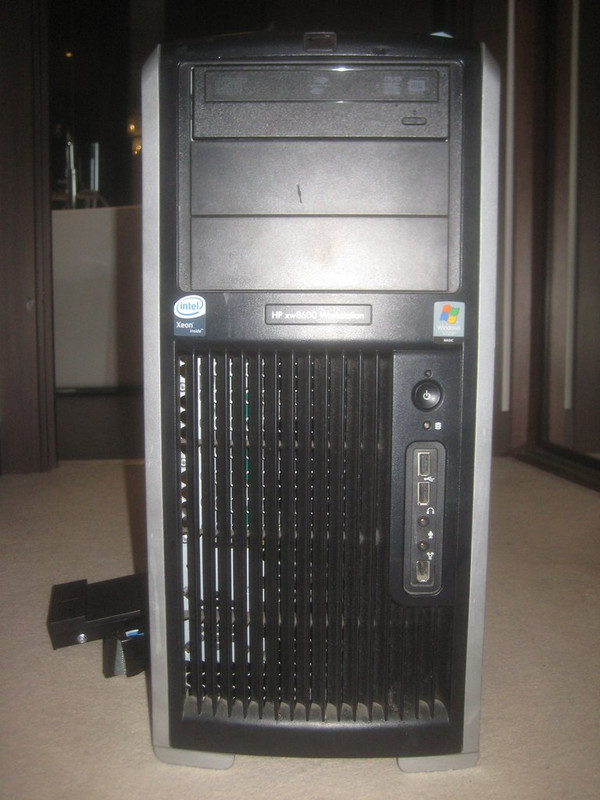 A HP XW8600 with build date of 2008, I've actually got 2 this been the faster with a X5450 3GHz CPU and the "high performance" heatsink.
They came from a Industrial Printer's and either used by CAD or ran a printing press. I suspect the later as both had crappy (and dead!) Quadro NVS 295 cards.
The things are filthy as is everything from that place. Industrial printers are NOT dust free environments not to mention forklifts whizzing around and massive printer's needing lubrication, inks and whatever else.
I know graphics will be a XFX Radeon HD 4890 the best PCIE card I have in my spares list which I got for free few years back. Thing is that 's pretty much period correct for this Vista era workstation. hmmmm
Other hardware is
RAM: 4GB RAM
HDD: 2x SAS 300GB
DVD: Dead SATA drive of some type
First things first was giving it a bath, I'm just letting it dry out now, not after spotless but don't want to need a shower myself every time I work on it.
I've some upgrades in mind. Either cannibalising the other workstation or from a ML350 G5 that I spent good money on last Christmas to fully upgrade only for the onboard VRM to fail.
Let's see how much I can NOT spend on this, the fun begins