Reply 40 of 1536, by pshipkov
Glad you liked my gibberish.
4x1Mb Samsung 60ns parity FPM 30 pin SIMMs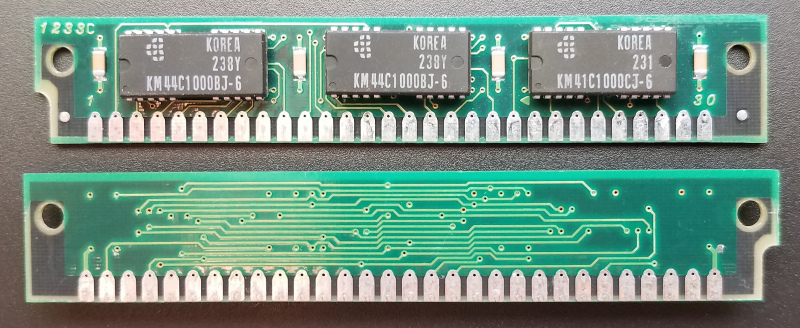 Had to pick and choose from a bunch to find the right ones. As far as i remember 2 more memory sticks with LG chips on them worked fine too, but used the 4 Samsung ones for uniformity.
The BIOS does not offer option to toggle parity checking, but these memory sticks have been battle tested on multiple motherboards for all sort of things - they are solid.
EDIT:
Just remembered something - there is a similarly looking type of SIMMs with KM41C1000CJ-6 labeled Samsung chips on them, they gave me quite a bit of trouble. They are a bit taller and have wider resistors. There is a "SAMSUNG Korea" label in the upper left corner.
But maybe it is just a coincidence that mine are not great and i am only spreading rumors here.
So i leave it to you to decide what is what. 😀
Last edited by
pshipkov
on 2020-01-10, 07:03. Edited 3 times in total.